Discover more from Unpacking Africa 4.0 Newsletter
Ecosystems & Figuring *ish Out from Africa to the rest of the world.
Over 14,000 subscribers
Certified.
Validating Community Curation, Finally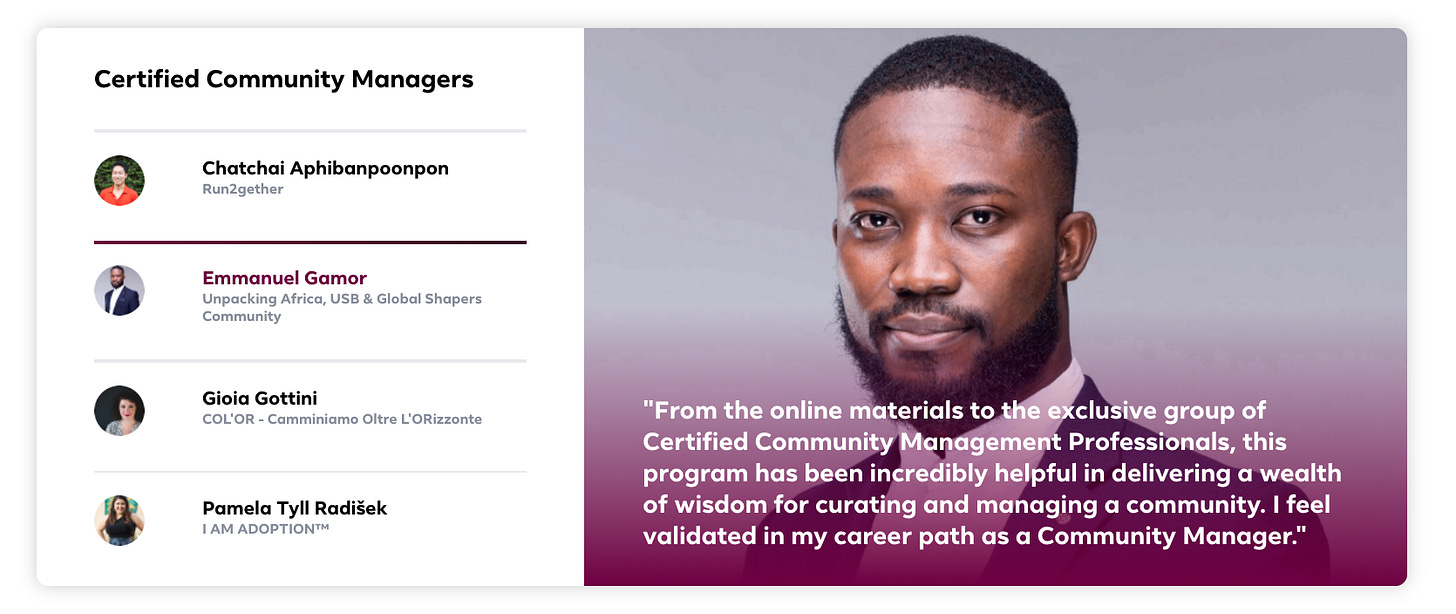 source: Facebook Certified Community Managers website
My first recollection of curating a community was during my teenage years when I helped my mother, Muriel with The Call of Esther Ministry activities in Alexandria Virginia. We were dedicated to hosting a children's Christmas party and per usual, I was always on gift-wrapping duty for 250, then 500 the following year to almost 1000 when I finally left for college.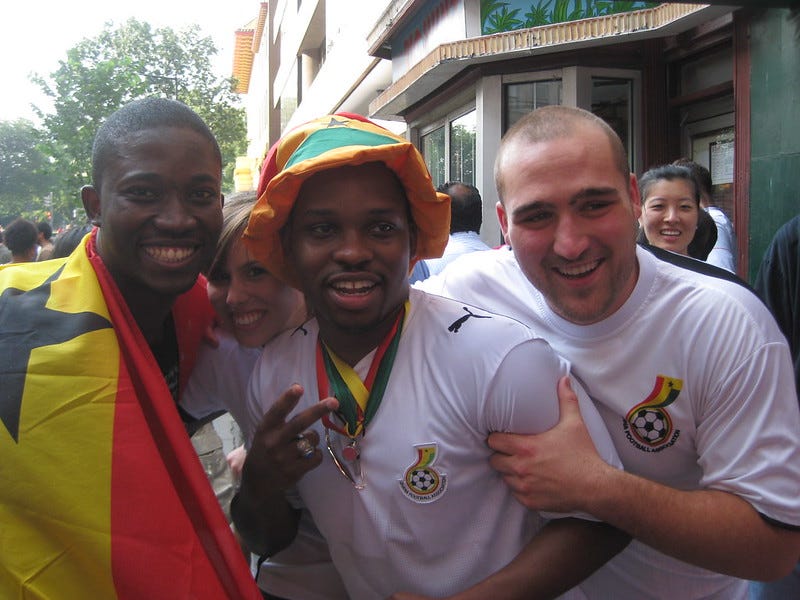 Emmanuel Gamor in Washington DC, celebrating Ghana Blackstars
At Florida, the Gator spirit endeared me to be even more engaged in the community even more deeply, from African Student's Union, Esquire - PreLaw Society to bigger responsibilities as a member of Florida's prestigious Blue Key Society, President of Iota Phi Theta Fraternity - Gamma Omicron chapter, Board member for our student's division Reitz Union, and finally Director of Campus Involvement for our 50,000 community members.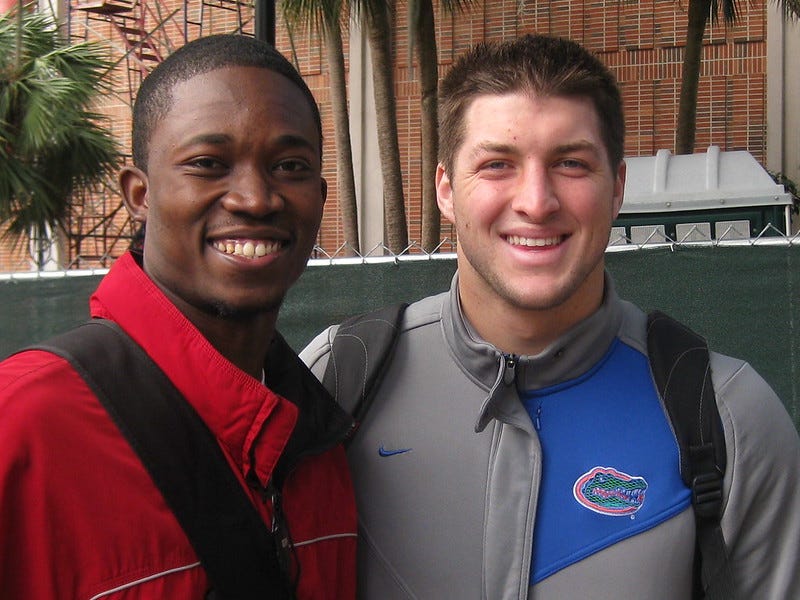 Left: Emmanuel Gamor and Tim Tebow circa 2008, Reitz Union, University of Florida Gainesville, Fl.
Fast-forward to my journey back home and bringing the same spirit of community engagement to YFM - Ghana 107.9FM, the largest youthful station broadcasting from Accra, Ghana to hosting YouTube Creator's Huddles with Google, and a seven-year stint with the World Economic Forum Global Shapers community; culminating in my Co-Chairing our Impact and Knowledge responsible for strategy, evaluation of impact and transfer of knowledge for 10,000 members across over 100 countries across the world. #WorldWeShape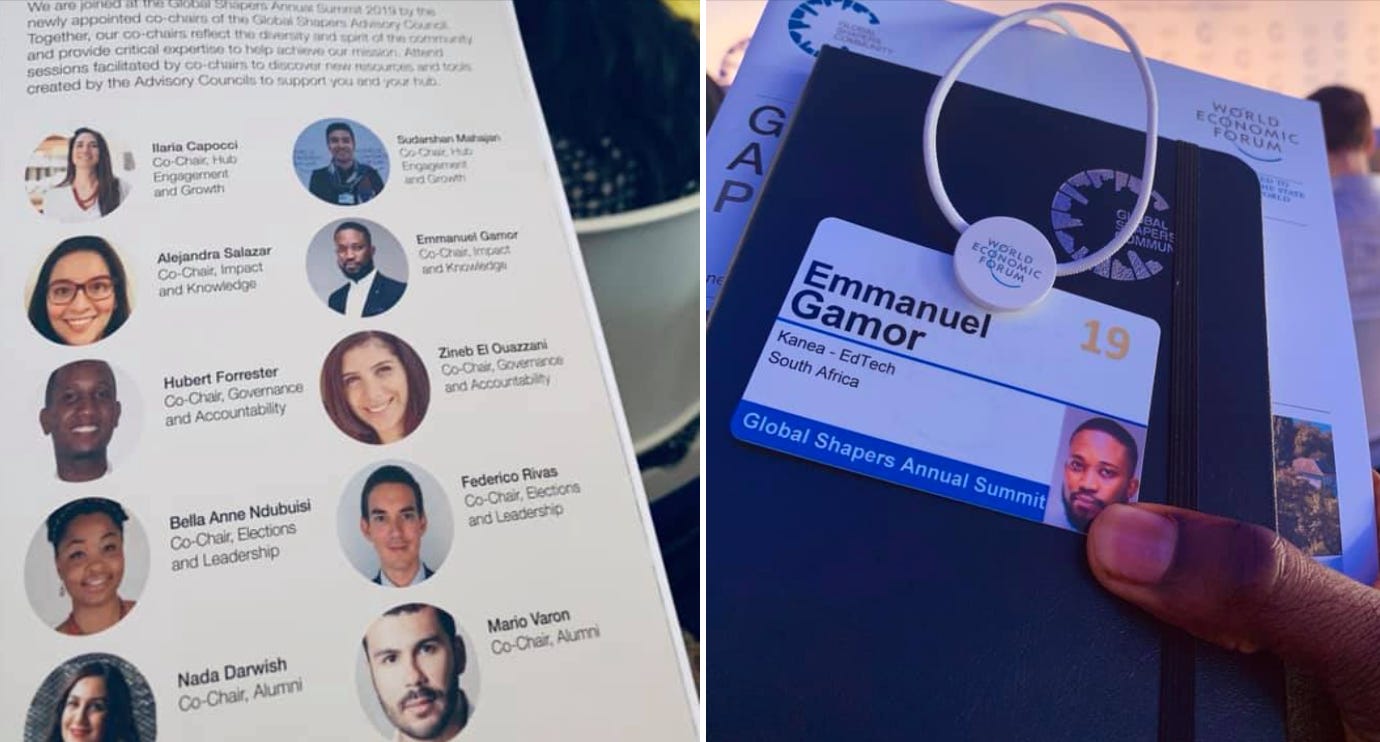 Global Shapers Annual Summit circa 2019, Geneva, Switzerland
The brief trip down memory lane helps me highlight my strong belief in building up our communities and I am incredibly excited to share two incredible projects that translate the in-person community experience to digital platforms of knowledge share and curation. Starting with my good friends at Heavy Chef and recipes for entrepreneurship: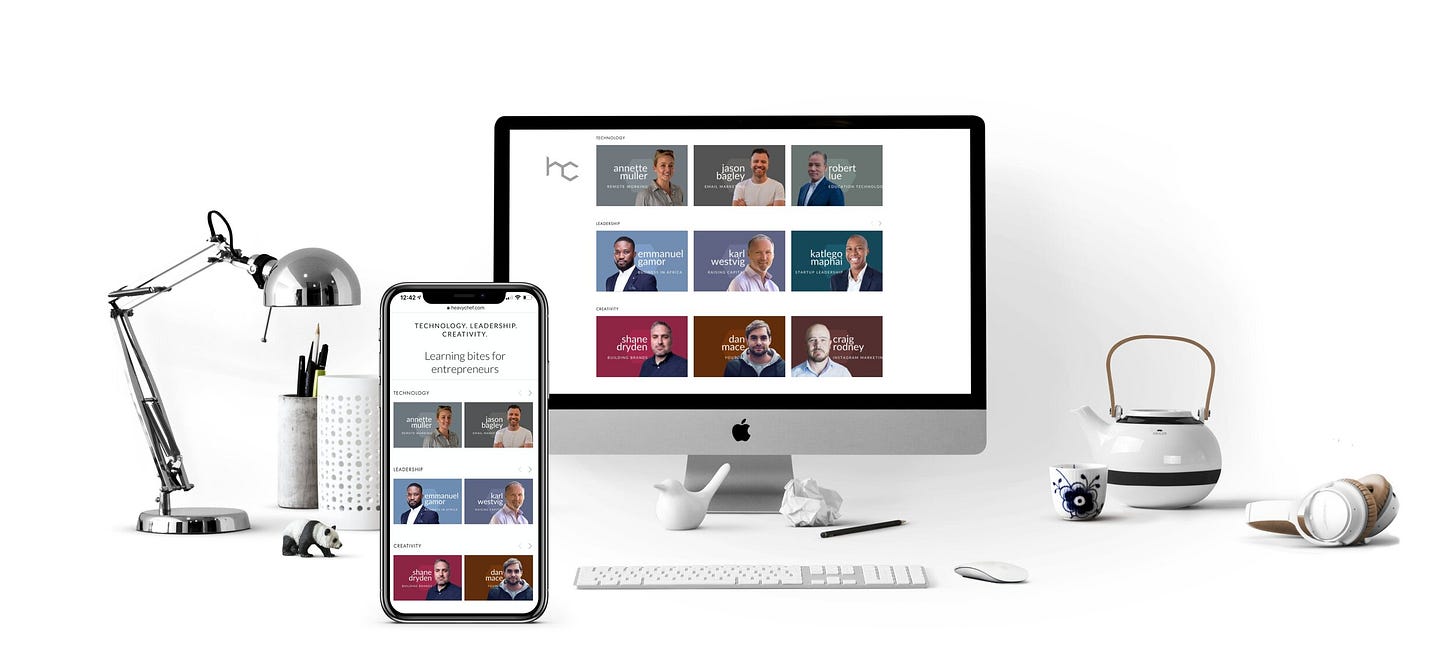 The launch of the Alpha-cohort on testing entrepreneurial recipes has me giddy as Fred and the team tirelessly build a digital ecosystem of sharing, learning, and rebuilding our local economies that have been negatively impacted by the pandemic.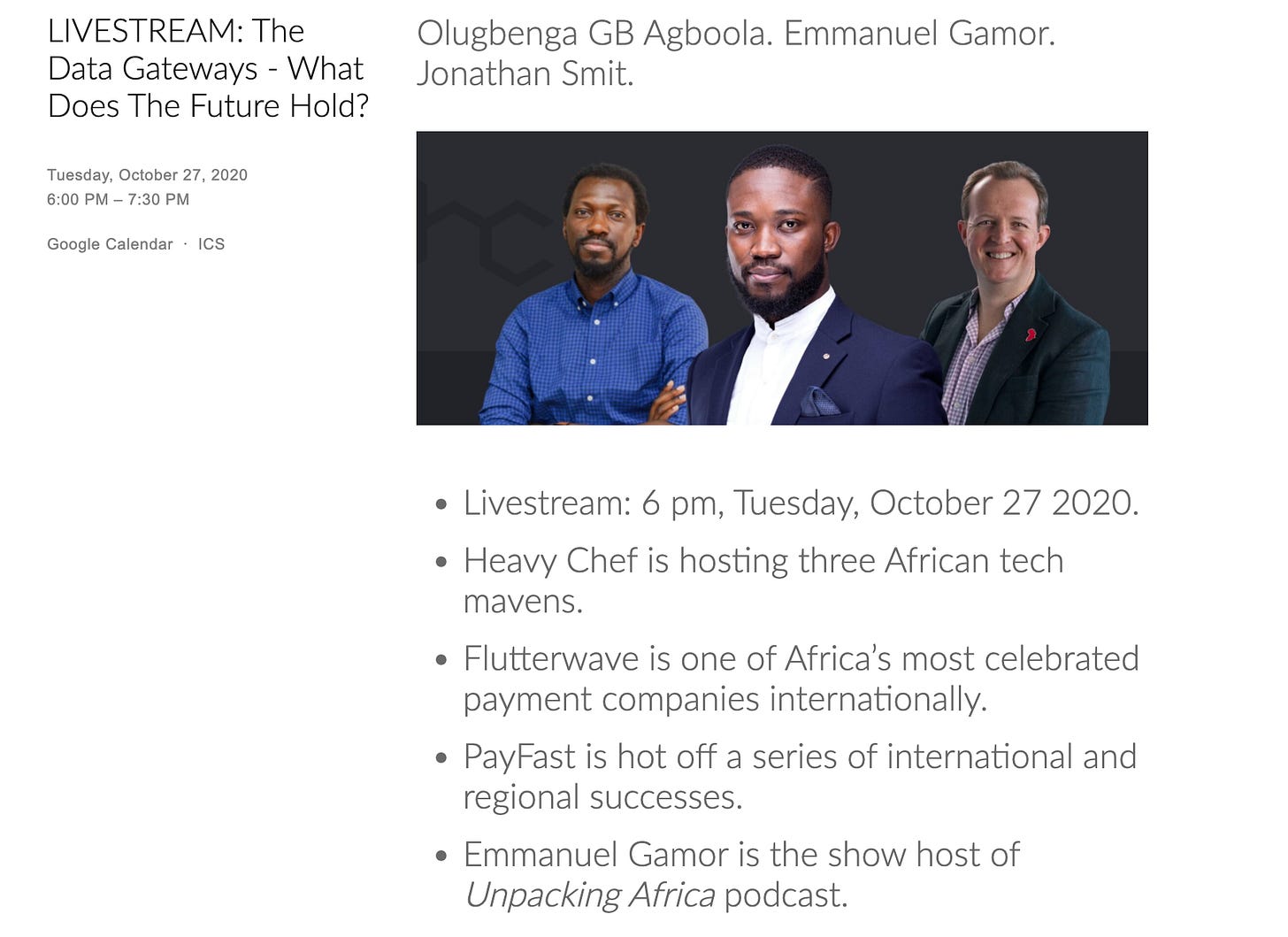 Ahead of the full lunch, is our October community huddle Livestream: Data Gateways on Tuesday, October 27th, 2020 with more details to register here. As a subscriber/reader of the Unpacking Africa newsletter, you get access to the FREE promo code: DATAFREE to get you in when you sign up, thank me later.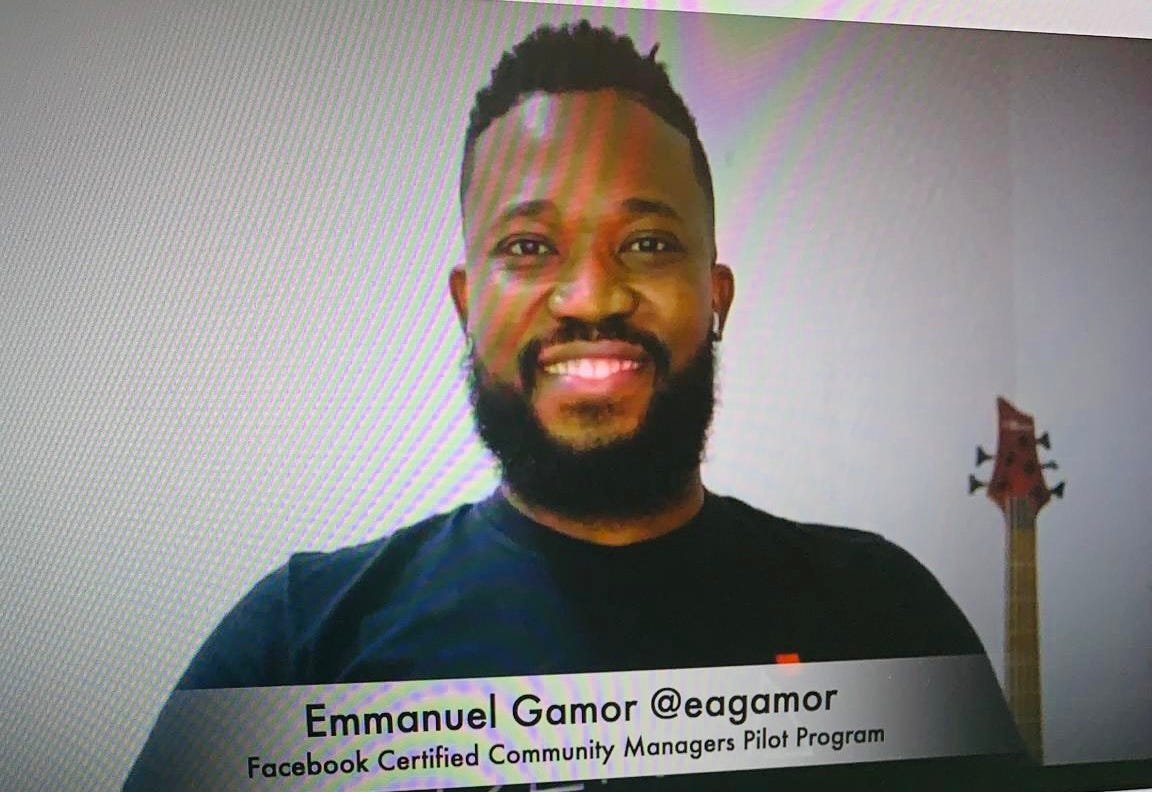 Lastly, yes our 4th quarter is lit with eventful happenings, is Facebook's Certified Community Managers program announcement. Having had the opportunity in shaping the Facebook Certified Community Manager Program along with other phenomenal community leaders.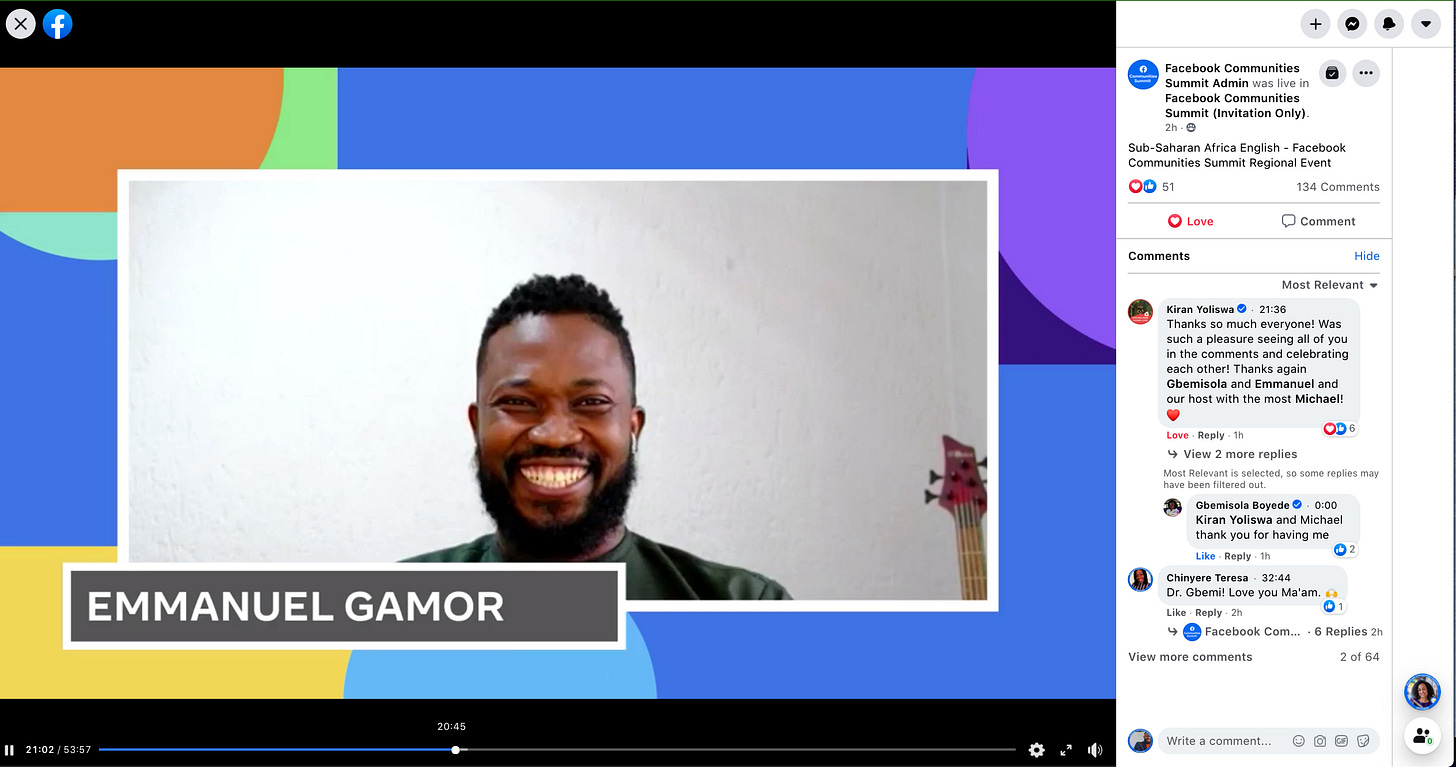 Facebook Communities Summit 2020
I'm glad to see the 'Book's platform creating more opportunities for its users. This certification recognizes and measures comprehension and strategic application of best practices and standards for online community management.
I'm doubly excited that our founding cohort, a little over a hundred amazing community managers across the world, are officially Facebook Certified Community Managers.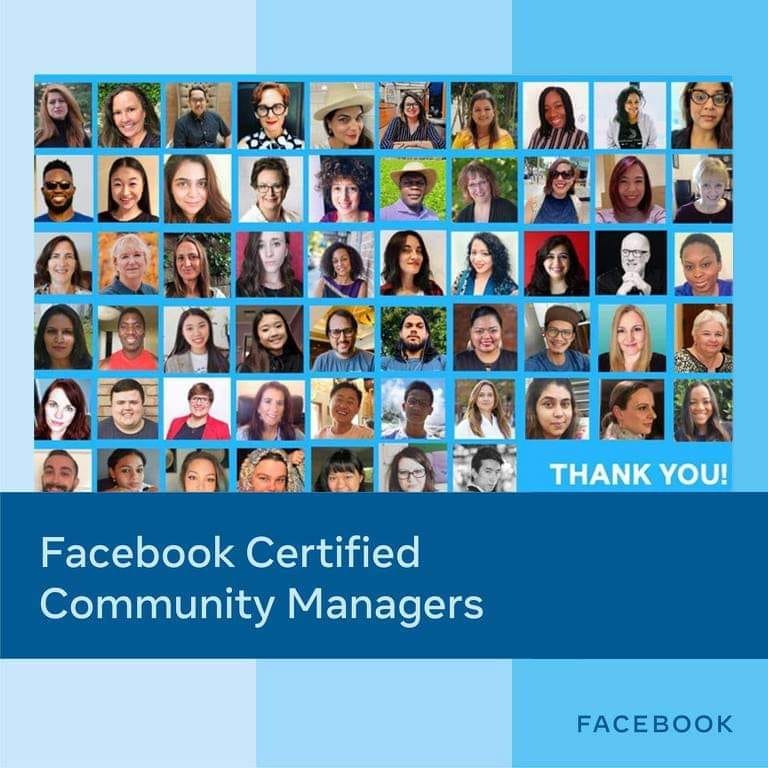 As we look to reclaim work and opportunity during this 4th Quarter, I wish you health and success in all your endeavors and in all your communities that validate you are and what you stand for.
Be well, be safe, be loved.
p.s. KukuZa! Amplifying voices: If you know of podcasters looking to learn, share tips and tricks, and amplifying African voices, we curate an amazing group that shares resources, hosts guest speakers, and supports with podcast engagement here. Podcasters Unite! #KukuZaFest
p.s.s. Our season one finale of the Unpacking Africa podcast features Cory Smith as he shares his journey learning on Japan's economic development, comparing the West's capital market system to Islam's. Grab your headphones, & crank up the volume. #UnpackingAfrica